Sale!
100 Ceinints Peru banknote
₹120.00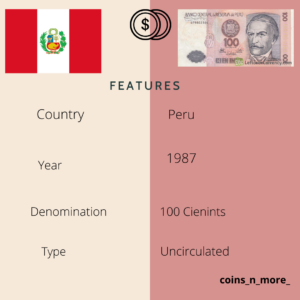 A beautiful crisp banknote of Peru 1987 .
Top quality banknote unused condition .
1 in stock
Description
The Central Reserve Bank of  Peru issued Peruvian banknotes in 12 different denominations, including this 100 Peruvian banknote. They are part of the demonetised Peruvian banknotes series. The  Central Bank of Peru started issuing these 100 Peruvian banknotes in 1985.
A very crisp banknote in excellent quality and cheap price .